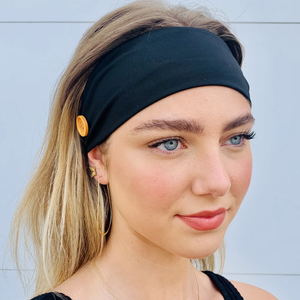 Pretty Simple
Headbands with Buttons for Holding Face Masks - Black
Regular price
$12.99
Sale price
$13.99
Unit price
per
These headbands are a cotton/poly/spandex blend with elastic. Material is breathable. Buttons sewn on the headband as a way to hold the elastic on a face mask. Prolonged use of face masks is causing skin breakdown behind ears, and this is a simple solution for that problem. Simply wrap the elastic from the face mask around the button on the headband. With the CDC recommending the general public wear masks during this COVID-19 pandemic, these headbands will be useful for trips to the grocery store even for the general public. Healthcare workers, janitorial staff, food preparation, dental offices, hair dressers, immunocompromised individuals, and general public who are wearing masks for long periods of time will appreciate giving their ears a rest from the elastic on a face mask. Simply loop the elastic on the face mask over the buttons on the headband to keep your mask firmly in place.
---
Share this Product
Makes mask wearing more comfortable
If you have a job where you have to wear a mask all day, this headband is a must! The buttons give your ears some relief!
---